Policy development
Whether you are a policymaker, a public health official, a healthcare administrator, a healthcare provider, a family member or a patient, you can make a difference!
The cause of the opioid epidemic is complex, and the solutions are equally complex. There are three broad areas where we must focus:
Reduce demand:

We must look at and address difficult societal issues such as poverty, income inequality, adverse childhood experiences (ACEs), lack of educational opportunity, generational trauma, inappropriate incarceration of individuals with the disease of addiction, even smartphone use.
We must significantly reduce the number of opioids we are prescribing for acute and chronic pain. Evidence has shown that these prescriptions change the brain in a way that makes us more likely to use opioids in the future.

Reduce supply:

By developing policies and clinical protocols, we can reduce the prescribing of opioids and treat pain more effectively and reduce the number of opioids that end up in our homes for future nonmedical use.

Treat those with the disease of addiction as we would those with any other disease:

All primary care providers should receive training in addiction and be able to prescribe buprenorphine without restrictions.
Provide treatment (buprenorphine or methadone) in jail and prison.
Stop incarcerating individuals whose crimes are a result of their disease.

Law Enforcement Assisted Diversion (LEAD)
Drug courts
Sentencing reform

Promote harm reduction policies to keep people alive until they are ready for recovery.
We can develop policy papers and evidence summaries to inform policymakers. See evidence of a policy paper developed for safe consumption sites here.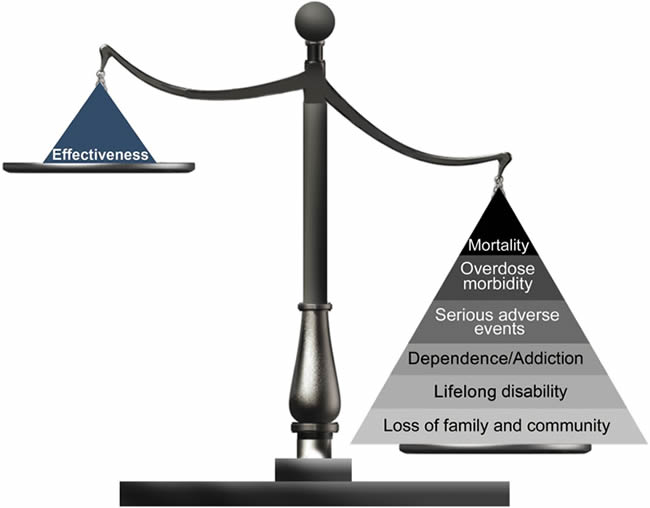 Franklin GM. Opioids for chronic noncancer pain: a position paper of the American Academy of Neurology.
Neurology. 2014;83(14):1277-1284. doi:10.1212/WNL.0000000000000839